These Are Your Must-Have Copper Products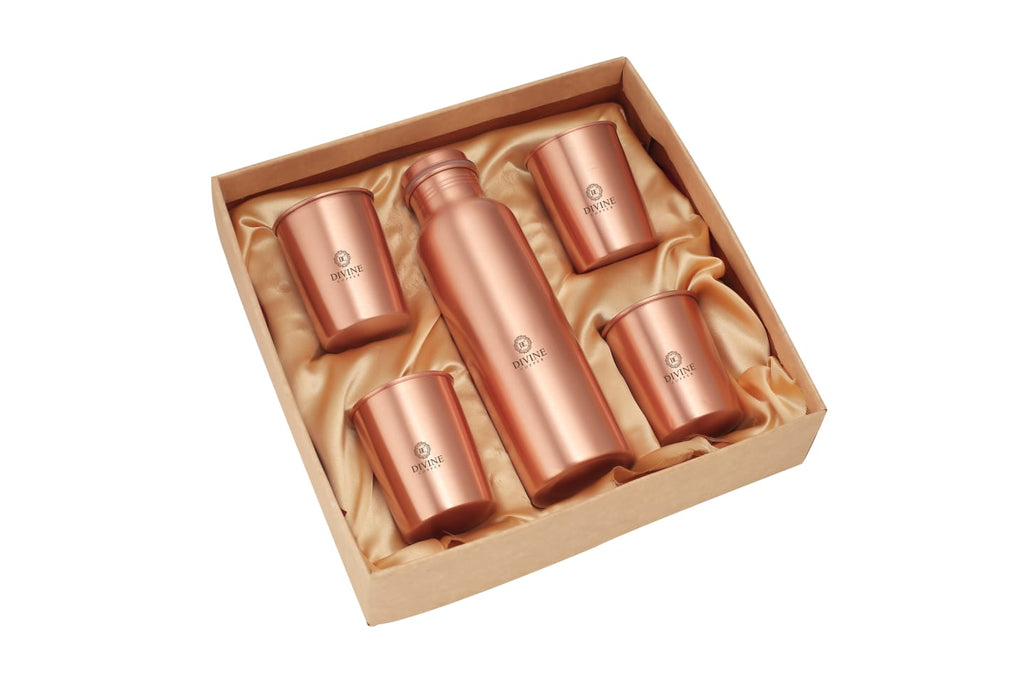 Copper is a vital trace element required for living. It is present in every human tissue and aids in producing red blood cells and preserving neuron and immune system cells. It contributes to energy creation and aids the body's ability to absorb iron. 
Now that you know the importance of copper are you searching for a copper bottle supplier? Well, look no further! Divine Copper, is the best copper bottle brand in India. It is a well-known maker and exporter of upscale copperware in Mathura, Uttar Pradesh, and was consolidated in 2015. It is ISO 9001:2015 certified. Their whole line of copper items is designed with 99% pure copper that has been lab verified and approved. 
They offered 125 different types of copper bottles in their early years. They are also very known copper bottle manufacturers in Moradabad. From jugs to glasses, barware to hotel ware, they are splendid copper utensils manufacturers. 
Their copper bottle is one of the best copper bottle in India. Additionally, they have a wide range of corporate gifting sets which are perfect to gift your boss or a fellow employee. A copper gift set shows that you care about their health.
Now that you know that you can trust Divine Copper let's check some copper products by them:
1.
Water bottle
Divine copper's Oreo Blue 1000ml copper water bottle is best to use for your own. You can buy copper bottle online through their website. They are very known copper water bottle manufacturers. The bottle comes in an attractive design and deep blue color. It currently retails for 1,195 rs only. And for this amount, you'll also get a jute bag absolutely free! So you don't have to worry about carrying your bottle in your hand everywhere you go. 
Along with this best copper water bottle and a bag, you can take care of your health and flaunt it in front of your friends!
2. 
Water dispenser
A water dispenser is perfect to use at home. Divine Copper's water dispenser comes in an attractive marble look-alike coating which adds to its charm. You can keep this copper water dispenser or copper water tank in your kitchen and enhance your kitchen's aesthetics. 
Along with enjoying the health benefits of copper, you can also select a color that perfectly complements the design of your kitchen.
3.
Jug
Do you still use a glass jug just because it's attractive to look at? Although glass jugs are lovely, they are also delicate. It is best to avoid using glass items if you have children or pets at home since if they break accidentally, your children or pets could get hurt. 
Divine Copper's jugs are your best choice without sacrificing appearance. Their copper jug is available in a wide range of sizes and shapes. A few hours' worths of water can be consumed from their 900ml capacity. 
Additionally, they are not fragile like glass containers. By making a one-time investment in a copper jug, you can enjoy long-term health benefits. So, invest wisely.
4. 
Bedroom jar
Do you know what a bedroom jar is? If not, you can keep it in your bedroom because it is more attractive than jugs while still being similar. 

The bedroom jars from Divine Copper have the same 900ml water capacity as their jugs. Because of this, you are no longer required to get up in the middle of the night to walk to the kitchen to grab a glass of water. At your lamp table, you can keep a bedroom jar. Along with the fantastic benefits of copper, it will enhance the aesthetics of your bedroom.
5.
Glasses
Are you still using those unattractive steel glasses that have no positive effects on your health or the aesthetics of your home? You have the opportunity to replace your steel glasses with some copper ones from Divine Copper's selection. 

Their Pure Copper Diamond Antique Glass blends in beautifully with the other items we've talked about in this article. Two pairs of glasses are available for only 899 rupees! Isn't that wonderful? So don't think much and grab your pair of their glasses and complete the aesthetics of your home.
Conclusion
These Divine Copper products are top-notch illustrations of copper products. They are also the best copper bottle brand in India and the best copper bottle manufacturer in Mathura. You can also view their new arrivals including copper utensils as they are also known for being the best copper utensils manufacturers in Moradabad. 
Divine Copper offers a large selection of choices at reasonable prices. They can help you to improve your health. So why are you still waiting? Purchase these items right away to establish a good habit.